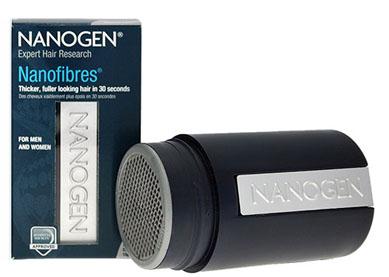 Hair Raising Products
9th December 2014
Hair thickening sprays, shampoos, lotions and scalp camouflage – these days, there's a world of products filling the shelves that all claim to give you a full, glossy mane of hair. For some people, a few of these products may indeed help hair growth and thickness. There are, however, many, many more lotions and potions claiming to give you hair like Kate Middleton, when in fact, they do nothing more than clean your locks.
It can be difficult to separate the wheat from the chaff, so here's our pick of the best thickening and camouflage products on the market right now, all of which are available for purchase through the Farjo Hair Institute's hair shop.
Nanogen Hair Thickening Fibres
Nanogen Hair Thickening Fibres have been scientifically developed to give the appearance of instantly thickened hair. The fibres are pure keratin, just like your hair, to give the most realistic look. The product is available in 10 natural shades, which can be used on their own, or blended with other colours to match your natural hair colour.
Toppik Hair-Building Fibres
Like Nanogen, Toppik is made from organic keratin fibres and you simply shake Toppik over thinning areas. The fibres intertwine with hair to give a thick and full appearance in less than 30 seconds, making hair rescue a speedy process!
Couvre Masking Lotion
Whether you are thinning at the front, the crown, or anywhere else, this undetectable lotion compound will instantly give the appearance of a thicker, fuller head of hair.
Mane Hairspray
The original, proven and effective solution to thinning hair since the 1980s, this thickening hairspray consists of micro minerals that bond to the hair, producing a natural and fuller looking head of hair. It can be applied as often as desired and is the perfect size to fit in your briefcase, so you'll never be caught short, or thin!
DermMatch Topical Shading
Formulated using botanical and naturally-derived ingredients, DermMatch coats the entire hair shaft, to make thin hair thicken, stand up and spread out for spectacular fullness – it can even be applied dry to a bald or shaven head for natural '5 o'clock' shading. Water-resistant and durable, Topical Shading is suitable for men and women of any age, hair colour, skin colour or hairstyle – perfect for everyone!
Different products will be suitable for different hair types and colours. Please refer to our shop website for more information on these products, plus many more.