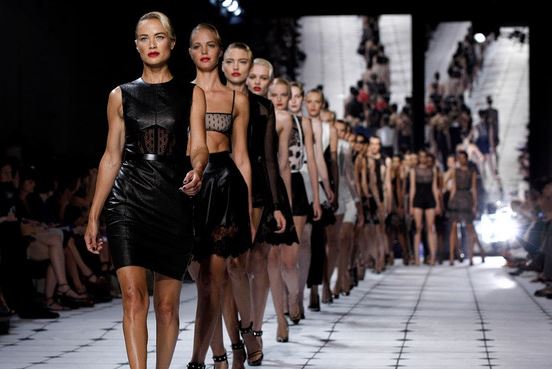 Models Take The Runway To Hair Horror
24th February 2015
Last week, we saw an endless flurry of models descend on the Big Apple for the twice-yearly New York Fashion Week.
Strutting their stuff down the catwalk, it wasn't next season's must-have red carpet dress, or seemingly androgynous attire that grabbed my attention. Rather, it was the models' ever-changing hair styles.
With models of the moment, such as Karlie Kloss, Gigi Hadid and David Gandy taking to the runway up to 10 times over the course of the event, it's fair to say their follicles take a battering. Combine this with shows at London, Milan and Paris Fashion Weeks, and the models could potentially have their hair professionally styled and restyled over 40 times in a matter of weeks.
It's clear that an abundance of products and styling tools were used backstage last week, with slicked back sleek, pinned up ponies and wet look waves stealing the limelight. Although many catwalk shows see models wearing wigs, those who allow their own hair to be styled need to ensure they are providing their hair with the correct nourishment to prevent them from a sure-fire strut to hair loss.
Over-styling leaves follicles with little moisture and strength, making it more prone to breakage. To ensure their hair is stocked with all the nutrients it needs to stay strong, models need to stock their diet full of essential fatty acids. These elements – which can be found in foods such as walnuts and avocados – promote hair health by increasing the circulation to the scalp.
Additionally, a regular supply of other key nutrients, including protein, iron and Vitamin C, will keep models' hair strong and ready to fight any styling-induced battle.
Finally, although easier said than done, steering clear of styling tools on their days off will give hair strands the opportunity to repair and nourish themselves.