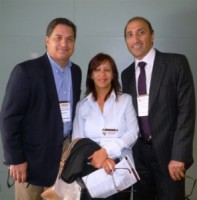 1st Visit to Brazil and a Hugely Successful Hair Transplant Congress
30th August 2010

Drs Farjo arrived back last week after immensely enjoying their first visit to Brazil. They were there as invited international guest faculty at the 4th Congress of the Brazilan Society of Hair Restoration Surgery. The meeting was chaired by the society's President and our friend and colleague, Dr Marcelo Pitchon (right with Dr Farjo).
The congress took place on August 18-20 in Belo Horizonte in the state of Minas Gerais, inland to the west of Rio de Janeiro and Sao Paolo. There were many excellent presentations, great debates as well as live surgery demonstrations.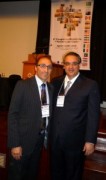 Dr Bessam Farjo was asked to give 3 lectures on the subjects of pre and post operative preparation, update on Farjo research in to the potential therapeutic effect of prostaglandins on scalp hair loss and finally his tips and pearls on the management of hair transplant megasessions. Dr Nilofer Farjo was invited to talk about medical treatments such as Minoxidil, Finasteride, Dutasteride and low level light therapy. Her second presentation was on the preparation and preservation of the harvested strip and the follicular unit grafts once they have left the scalp. She also was the session moderator for talks discussing FUE and new instrumentation.
Above photo: Drs Farjo with Dr Henrique Radwanski from Rio and the Brazilian Society's Secretary.
There was a highly enjoyable and colleagial atmosphere throughout and our hosts looked after the delegates thoroughly and professionally. After the meeting ended many of the delegates joined up and visited the nearby old town of Ouro Preto (Black Gold) where a gold rush took place nearly 200 years ago with many of the then town's features are preserved for visitors to appreciate.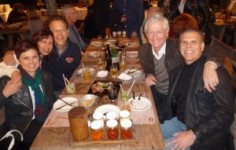 Photo to the right: traditional Brazilian evening (LtoR): Mrs Anne Knudsen (Aus), Dr Nilofer Farjo, Dr Robert Haber (USA), Dr Russell Knudsen (Aus), Dr Paul Rose (USA)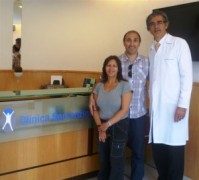 Drs Farjo also had the opportunity on their final day in Brazil to visit the beautiful clinic of Dr Mauro Speranzini in Sao Paolo. He is the vice-president of the Brazilian Society and played an important role in the congress's organisation
On the left, Drs Farjo with Dr Speranzini, probably the tallest hair transplant surgeon in the world!