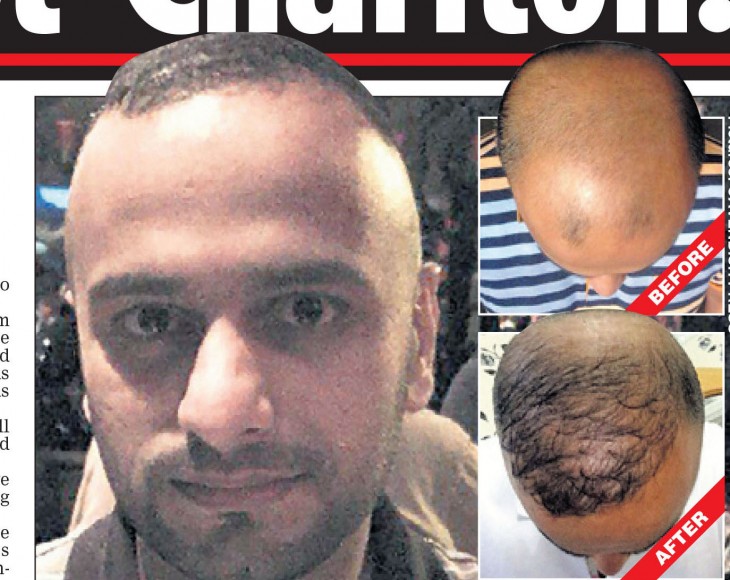 Considering a Cheap Hair Transplant? Think Again
12th November 2015
Home Or 
Away
?
I recently came across a poll on newbeauty.com, which reveals that one in four Americans would consider having surgery if it wasn't so costly. With this in mind, it's not surprising that people are considering a cheap hair transplant abroad, where they will find a much more affordable price. On the surface, it can be easy to see why this might be appealing – for someone who is struggling with hair loss, a clinic that boasts a cheap hair transplant whilst getting a holiday in the sun can be a very attractive proposition. While the discounted price tag may be very appealing, there are some important things to bear in mind when it comes to having surgery abroad. 
The same website outlines some of the dangers associated with medical tourism. It describes how it can be difficult to check if a foreign physician's credentials are genuine, suggesting that the International Society for Aesthetic Plastic Surgery is a good place to start. It also flags up that you may not be covered by your travel insurance if something goes wrong in another country. Another issue concerns recovery, which can sometimes take longer than expected after surgery and there can also be a danger of clotting if travelling by plane.
Whilst I am in agreement with most of the above, the cynical in you may feel that this is a bit rich of our American cousins. US physicians may be quick to dismiss surgery abroad as dangerous, but many of them encourage foreign patients to go to the US for surgery either through online communications or coming over here to meet prospective patients! The latter activity borders on practising medicine without a licence. 
Of course, there are plenty of legitimate clinics abroad, but it can be difficult to decipher which ones are to be trusted, especially if they are luring patients in with glowing reviews and special offers. The website of the International Society of Hair Restoration Surgery provides a list of members as a reference not necessarily recommending anyone in particular. It is down to the individual patient to do their due diligence whether online or in person. However, as we all know, if something seems too good to be true, it usually is – which is why we hear so many horror stories about botched surgery and patients devastated by the subsequently poor results. 
As part of its Beware of the Hair Transplant Black Market campaign, the ISHRS found that 77.5 per cent of its members – qualified hair restoration surgeons, including team Farjo – have seen a sharp rise in the number of patients coming to their clinics, seeking help after their surgery has gone wrong in the hands of a rogue and often illegal clinic. 
There are clinics that try to take advantage of potential patients who consider surgery at home too. We've seen a growing number of men come to us after opting for surgery via an offer on a discount website such as Groupon or KGB deals. These 'deals' are usually limited to 1,000 grafts which are only around 2,000 – 2,500 hairs. To anyone with a significant amount of hair loss, this would be nowhere near enough to provide a suitable result. The small print in these offers often dictates that only one discount is available per person, meaning that anyone requiring further treatment would have to pay the full cost or more likely, above the odds. 
Although in the UK a clinic that offers hair transplants must be registered with the Care Quality Commission (CQC) and undergo an inspection by specialist advisers, and doctors must abide by the strict guidelines set out by the General Medical Council, it's not the same everywhere in the world. 
In black market clinics, the surgeries are rarely carried out by doctors – at best, a technician with minimal training will be performing the operation and anaesthesia, occasionally with a doctor 'supervising' between ten and 60 patients. This allows the clinic to offer cheaper prices than if they were using trained and licensed hair transplant surgeons, but, of course, makes it far more dangerous. There have been reports of completely unqualified practitioners carrying out these skilled procedures – scarily, there have even been instances where a taxi driver has performed the surgery. 
We consider the initial consultation process to be the most essential part of all of our treatments, as this is where we will be able to work out the best options for our patients. It may be that surgery wouldn't be suitable for them, in which case we would suggest alternative treatments. However, black market clinics usually have no interest in providing clinical advice to patients on whether or not they'd be a good candidate for the surgery – as long as they can pay, they will be accepted for a hair transplant. This means that people who aren't suitable candidates will be wasting money on an operation that won't actually yield desired results. 
The quality of the transplants, unsurprisingly, is likely to be extremely poor. Scarring and infections are common, as is "over-harvesting", where too much donor hair is removed in one hit, meaning that there won't be enough hair to use for future surgeries. Worse still, the donor at the back may look like it has chunks missing. Unnatural, disfiguring hairlines and hair growing in the wrong direction as a result of follicles being placed poorly are also common results. The clinics often tend to offer a large number of grafts – usually between 2,000 – 4,000 graft extractions per session – but with no consideration for the patient's degree of hair loss. 
Now, it can be tricky to identify which clinics are legitimate based on their web presence. After all, it's easy for clinics to fake good reviews, have a professional-looking website or to pay for Google adverts to improve their search engine ranking. Keep an eye out for any clinic that boasts 'guaranteed results' – although hair transplants are usually very successful when carried out on the right candidate, there are no guarantees. These clinics are relying on the fact that patients who are travelling from overseas and are highly unlikely to return to complain – or will be too embarrassed to admit that it's gone wrong. 
Although a properly executed hair transplant can transform a patient's life for the better, a surgery performed by rogue doctors or worse, non-doctors, can cause irreparable damage, potentially depriving patients of the hair they desire, and robbing them of their confidence, psychological wellbeing and self-esteem.
Faisal's Nightmare
You can read about how Faisal's recent transplant abroad was a huge disappointment to him. Upon his return to the UK, he sought out Farjo to help fix the result he got in Turkey. We are seeing this sort of situation on a regular basis now, Faisal is just one patient who was willing to identify himself and speak out. 
Our lead London hair transplant surgeon, Dr Greg Williams, President of the British Association of Hair Restoration Surgery, warned that many countries have different regulations to the UK, with standards and safety procedures varying dramatically depending on where you travel to. He goes on to say: 'Patients travelling overseas are often in the market for a cheap deal at clinics where guidelines aren't as stringent as elsewhere'. This has led to us witnessing some horrific results of botched surgeries, including poor hair growth, density and direction, wide strip scars, donor site depletion from graft over-harvesting and in the worst cases, skin loss from necrosis. 
'Cheap surgery abroad may seem like an attractive option but, while the general costs of providing surgery may be less in some countries than in the UK, this is often accompanied by less stringent regulations on facilities such as those by the Care Quality Commission.'
What Next?
There certainly are some serious dangers involved with having surgery both abroad and at home or opting for a cheap hair transplant, and I would strongly recommend considering these dangers should patients be tempted by low-cost surgery options. As always, I must stress the importance of thorough planning and research when contemplating any type of surgery. Make your decisions based on what's right for you, not on the price it costs. 
If you would like some advice regarding your hair loss, please feel free to Book a Consultation with us today.