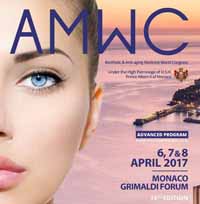 Dr Farjo Invited Hair Transplant Speaker at Monaco Congress
9th July 2017
On April 8th 2017, Dr Bessam Farjo, was one of 2 guest speakers invited by Restoration Robotics Inc to speak about the ARTAS Robot, at the Annual Aesthetic & Anti-Aging Medicine World Congress (AMWC)  in Monaco.
Dr Farjo spoke for 30 minutes detailing the differences between Robot-Assisted FUE hair transplant donor harvesting, and manual and other mechanised techniques.
The Farjo Hair Institute utilises a wide range of FUE techniques and tools, to achieve the best possible outcome for the patient and optimise the efficiency of the process based on the individual patient circumstance.
The ARTAS Robot was released to the market in the USA in 2011 after many years of research and development, and we have extensive experience with it at the Farjo Hair Institute since 2013.