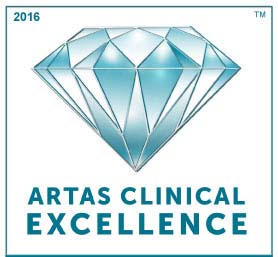 Farjo Awarded First UK Centre of Excellence
31st March 2016
The Farjo Hair Institute has become the first UK clinic to be granted Centre of Excellence certification for its use of the ARTAS robotic hair transplant system. We are now one of just two centres in Europe to hold the title, which was awarded by ARTAS creator Restoration Robotics Inc.
Dr Bessam Farjo, the founder of The Farjo Hair Institute, commented: "The ARTAS robotic system has completely revolutionised our work here at Farjo and our patients have seen fantastic results. The industry is constantly pushing the boundaries of new technology and the ARTAS is an excellent example of that."
He added: "We're thrilled to have been recognised officially by Restoration Robotics, particularly as our institute is the only clinic in the UK to have Centre of Excellence status."
ARTAS works by automatically identifying a patient's best existing hairs for transplant on parts of the scalp where hair is thinner, with no stitches required after the procedure. Discussing the system, Dr Farjo said: "I'm extremely proud to have brought such an innovative, futuristic machine to Manchester – a city that has always celebrated and encouraged the advancement of technology."
The international vice president of California-based Restoration Robotics Inc., Brent Nixon, explained that the Farjo Hair Institute was one of the first clinics in Europe to acquire an ARTAS system. He continued: "Since then, Dr Bessam and his clinic have helped to train physicians from all over the world on the benefits and advancements of the ARTAS Robotic System. We are true pioneers and supporters for advancing the medical field of hair restoration."  
Founded in 1993, the Farjo Hair Institute's Quay Street site in Manchester opened in 2013 investing over £2 million in the project. The Institute also operates from Harley Street in London and includes 4 hair transplant surgeons and a skilled and experienced team of nurses and technicians.