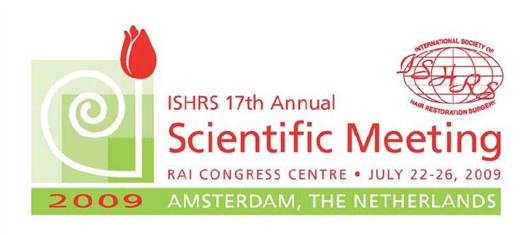 ISHRS17th Annual Meeting Huge Success in Amsterdam
27th July 2009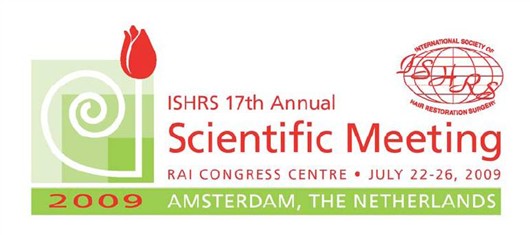 Amsterdam in the Netherlands hosted the 17th Annual Meeting of the International Society of Hair Restoration Surgery in July 2009. This is the biggest hair transplant event of the year and was only the second time it was held in Europe. This showed with the majority of attendees being from Europe and Asia.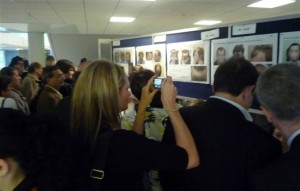 Farjo were very active participants at the meeting with 7 delegates, and Dr Nilofer delivered 4 lectures while Dr Bessam gave 2 lectures and moderated a panel of speakers. Dr Bessam was also invited to take part in the Live Patient Viewing event where over 500 delegates examine state of the art results. For this purpose he brought with him 5 patients from the UK, the largest number of model patients from a doctor at the event (see left). The patients were John (aka Fallenstar), Amie Cameron, Roy, Anna Dawn and Clare Smith (both male to female trans gender patients)
Dr Nilofer Farjo (right) gave 2 lectures on the subject of hair cell multiplication (cloning) to beginners and surgical assistants, Minoxidil (Regaine) mechanism of action research (in association with University of Bradford) as well as a study we did on eyebrow transplantation. This last lecture confirmed recipient site influence on slowing down growth rate after eyebrow trans­plants in a small ISHRS sponsored study.
Dr Bessam Farjo talked about the latest cell cloning trial data to the general audience concluding that the answer may lie in growing stem cells in the lab to a hair follicle stage and then implanting the hair follicles. He also presented the preliminary research results on the role of prostaglandins in hair restoration (again with University of Bradford). In addition he moderated the lecturers in the session concerned with the role of growth factors in hair restoration.
Other highlights or information from the meeting that we found interesting or useful:
When the cause of the scarring alopecia was trauma, the results after hair transplantation were excellent, but if it was inflammatory in nature, they were very disappointing.
Anaesthesia pain reducing technique that we have already started applying in the clinic.
A dutasteride clinical trial in South Korea showed promising results but there was still concern over the safety of dutasteride in young men because of reports of decreased sperm counts and the very long half life of this drug.
Although many are still skeptical of Low Level Light Therapy (Lasers) devices for hair growth, the science behind this technol­ogy appears solid and we will doubtlessly hear more about its beneficial role in hair restoration in the future.
Stem cells can be found along the hair shaft from 0.76-1.65mm. These findings have direct implications regarding how much tissue can be safely removed with trichophyticclosures.
As high as 20% of patients with hair loss may suffer from Body Dysmorphic Disease (BDD) and we must pay close attention to what the patient is telling us so we can recognize the signs and suggest medical treatments or refer to someone who can help better.
The initial results were presented of the trials run by Histogen in Honduras. Using human foetal fibroblasts to increase the production of wnt proteins that promote wound healing and growth factors and, ultimately, when injected into the scalp, may promote hair growth. Initial clinical trials proved to be positive, with more clinical trials under way.
In female pattern hair loss, inflammatory infiltrates could be a factor contribut­ing to hair loss. However, the culprit may be an immune-based trigger and that antigen targets have yet to be identified. These preliminary findings bring to light the possible benefits of topical corticosteroids, NSAIDs, and even red light lasers.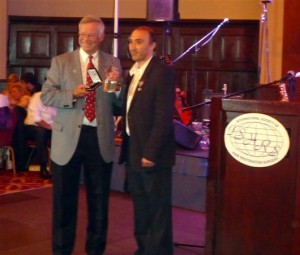 Last year, Dr Bessam Farjo was the 1st European to be President of the ISHRS. In the photo on the left, this year in his position as Immediate Past President he presents this year's President Dr Bill Parsley from Louisiana with the ISHRS certificate and award of appreciation.