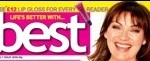 News Coverage of Eyelash Hair Transplants
31st July 2010
There was plenty of media coverage recently warning about the potential damage false eyelashes can do to the existing hairs. In certain cases it can lead to significant eyelash loss. Whereas in most cases the hair will grow back eventually, in others it may not.
Eyelash hair transplantation is now a real possibility for anyone who has damaged or injured lashes for any reason. It is also possible in certain cases where there is naturally cosmetically-insufficient eyelashes for a confident look for a woman. Each case obviously needs to be assessed individually and it has to be remembered that the new hair behaves similar to scalp hair and therefore will grow at the same rate! Regular trimming of the lashes will likely need to be done at 1-2 weeks intervals. Cost of treatment starts from £3,650.
Dr Bessam Farjo in his position as a hair loss and restoration world expert was extensively quoted in the media sources below. Click on each to read the stories.