Why Visit Our London Harley Street Hair Transplant Clinic?
Our medical and surgical team are dedicated to providing an ongoing prestigious service, offering a wide range of hair treatments, all at competitive, affordable prices. The treatments available in our London Harley Street clinic include hair transplant surgery, FUE as well as strip FUT, hair restoration, as well as various other hair treatments for both men and women.  
We are the benchmark of excellence and this is why we utilise the latest technology, as well as finding innovative techniques to constantly provide a streamlined contemporary service.
The Process
Are you considering a hair transplant in London? At the Farjo Hair Institute, we don't just treat your condition, we treat you as an individual. We want to get to know you, your situation, and what you want to achieve from undergoing treatment. From the consultation, right through to aftercare, we will guide you through the options that are best suited to your individual needs.
1 – Enquire
All patients can enquire via email, telephone, website form, chatbot, or social media. The first step in the process is to have a chat with the Patient Manager to validate if we can indeed treat you. You will be asked to provide photos or videos of your hair/hairline before progressing to the next step of the process. This is a free service we provide to ensure patients are genuine and treatable.
2 – Consultation
You can choose to arrange a free consultation with a patient manager, or for a small fee, you can have a consultation with a doctor. This part of the process is now virtual. This is less intimidating for patients and allows the clinic to be covid-19 secure with fewer patients in and out. Sometimes, a consultation at our state-of-the-art Harley Street clinic may be required if the virtual consultation is inconclusive e.g. we cannot assess the condition of the scalp or confirm the quality of the donor area. You can book a consultation here.
3 – Options
Following your consultation, we will provide you with best options that would be suited to you, if indeed any treatment is suitable. Our London Harley Street clinic is equipped to perform all types of treatment, from surgical treatments such as FUE and FUT, to a wide range of non-surgical treatments such as Low Level Laser Therapy and Scalp MicroPigmentation (SMP).
4 – Preparation
Once you have decided on a treatment, we will guide you on how to prepare. Our expert London-based patient care team will stay in touch with you at every step of the process to ensure you are always up to date.
5 – Treatment
All our treatments and surgeries are carried out at our London clinic, based on Harley Street in Marylebone. On the day of the treatment, you can rest easy knowing you are in good hands, with elite, award winning and world renowned surgeons, who will carry out your treatment personally.
6 – Aftercare
Following your treatment from our London clinic, we will provide you with all the relevant information you need, as well as perform regular reviews to check on the progress of your treatment. Don't feel like you are unable to contact us following your treatment, if you have any questions or concerns, you can always contact us for help and support.
Lead Hair Surgeon at our London Hair Transplant Clinic
Renowned and well-respected plastic surgeon, Dr Greg Williams, is the lead Hair Restoration surgeon at Farjo's 152 Harley Street Practice in London. Dr Williams joined the Farjo Hair Institute with over a decade's experience as a top consultant burns surgeon, which saw him treat patients for burn scar alopecia equipping him with the necessary skills used to treat genetic male and female pattern hair loss, leading him to his current field. Throughout his career, Dr Williams has acquired an impressive array of the field's most respected qualifications including the Fellow of the Royal College of Surgeons, and Fellow status by the International Society for Hair Restoration Surgery (ISHRS) in 2014.
Our co-founder, Dr Bessam Farjo, is also available to consult with London-based patients on a more limited basis.
Frequently Asked Questions About Hair Transplants In London
Will I need time off work after my surgery?
This mainly depends on whether you have sufficient hair to disguise the work you've had done. For some people, little or no time off work is required. However, if you do not have sufficient hair to cover, or if you are very concerned about anyone knowing, then it's probably best to have your surgery just before a week's holiday. You will be able to wear a hat immediately after surgery. The sun will not damage your grafts, but as your scalp will still be numb, you need to wear a hat to avoid the sun burning your scalp.
Will I regain a full head of hair?
Not literally. We are only redistributing your existing permanent hair to your thin or bald areas. We are not creating new hair, or implanting another person's hair into your head. Having said that, in expert hands, the limited donor hair available can be used to create the illusion of a good head of hair, particularly when the person has significant hair loss. With extensive baldness, the most important achievement will be to restore frontal scalp hair and the hairline to create a frame around the face. This will improve how you look to yourself and to others. It's important to remember that hair transplant surgery is about taking away the bald look rather than restoring the hair that you once had.
When will I notice any growth from my new hair?
New hair growth will only break through the skin at three to four months after the procedure. However, it will take at least six to eight months for the new hair to make any significant cosmetic difference to your appearance. Although a full result may take as long as 18 months to be achieved, most will attain this at 12 to 14 months. Sometimes, a result may take longer to show when working with scars or filling in a previously transplanted area.
Have you performed surgery on any celebrities?
Many celebrities seek Farjo to solve their issues but most of them would like to keep this discreet. Actually, anytime you watch television you will probably see a Farjo patient! They range from Hollywood actors, producers and directors, comedians, iconic pop and classical singers, world renowned athletes, TV personalities, world famous entrepreneurs and even Royalty. A minority of them have been kind enough to share their hair stories publicly. Our first one to do so way back in 2004 was former Eastenders star, Shaun Williamson. Others over time include, 80's pop legend Martin Fry of ABC, Actor/Comedian Sanjeev Bhaskar OBE, former England Captain David Platt, Cold Feet star John Thomson, and former Dragon's Den Duncan Bannatyne.
Is your London clinic discreet?
Yes. Our London clinic is very discreet, including signange.
More FAQs available here
Where to Find Our London Hair Transplant Clinic
If you are looking for hair transplant clinics in London, then the well established and reputable Farjo Hair Institute is your number one choice. Based at 152 Harley Street, Marylebone, W1G 7LH, London, we are close to several bus, underground, and mainline links. If travelling by tube, the closest station is Regents Park, just a five minute walk away. Great Portland Street and Baker Street tube stations are also close by. The closest mainline station is Marylebone, which also connects to the Bakerloo underground line.
Our other clinic is situated in the heart of Manchester.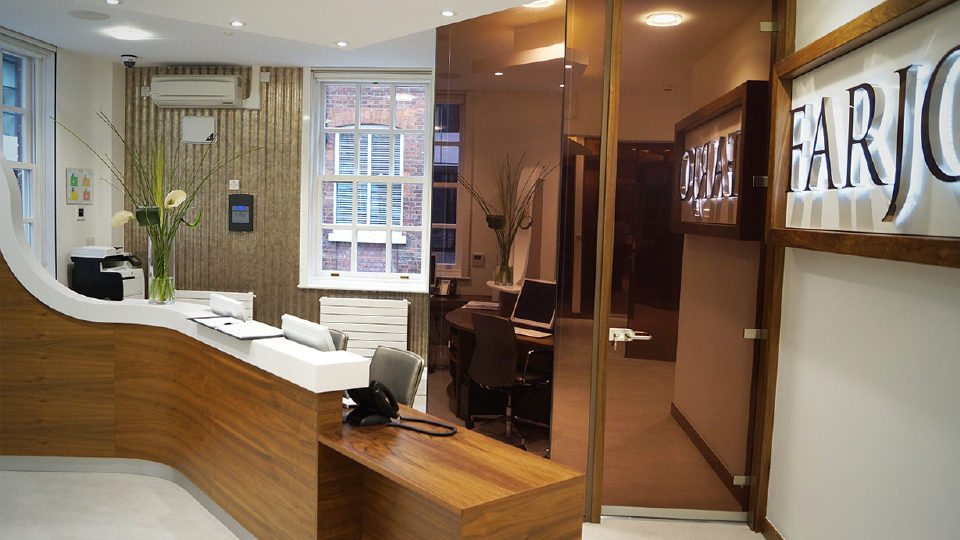 London

0333 370 4004
152 Harley Street, Marylebone, London,
W1G 7LH
Speak to our team about hair transplants in London
If you've decided it's time to do something about your hair loss, then contact us now for a free consultation, and get your confidence back.
Book A Consultation