Why Visit Our Manchester Hair Transplant Clinic?
Manchester's leading hair transplant clinic, Farjo Hair Institute, is well known for its outstanding worldwide reputation, thus recognised as the benchmark of excellence within the field, as well as being the only true award-winning hair transplant specialists, trusted by A-list film and TV personalities, pop stars, footballers and other celebrities as well business leaders, world politicians and even Royalty.
Our surgical team has extensive experience in providing our patients the best quality hair loss treatments, service and care, by utilising advanced technology for hair loss surgery, hair transplant, hair restoration and various other hair treatments.  
We have succeeded in delivering a prestigious effective solutions for both men and women all at affordable prices. This has made us the leading choice for patients who are seeking well-experienced and ethical professionals to address their hair loss issues. 
The Process
Are you considering a hair transplant in Manchester? At the Farjo Hair Institute, we don't just treat a condition, we treat our patients as individuals. We want to get to know you, your situation, and what you want to achieve from undergoing treatment. We will guide you through the options that would be best suited to you.
1 – Enquire
All patients can enquire via email, telephone, website form, chatbot, or social media. The first step in the process is to have a chat with the Patient Manager to validate if we can indeed treat you. You will be asked to provide photos or videos of your hair/hairline before progressing to the next step of the process. This is a free service we provide to ensure patients are genuine and treatable.
2 – Consultation
You can choose to arrange a free consultation with a patient manager, or for a small fee you can have a consultation with a doctor. This part of the process is now virtual. This is less intimidating for patients and allows the clinic to be covid-19 secure with fewer patients in and out. Sometimes, a consultation at our state-of-the-art Manchester clinic may be required if the virtual consultation is inconclusive e.g. we cannot assess the condition of the scalp or confirm the quality of the donor area. You can book a consultation here.
3 – Options
Following your consultation, we will provide you with the best options that would be suited to you, if indeed any treatment is suitable. Our Manchester clinic is equipped to perform all types of treatment, from surgical treatments such as FUE and FUT to a wide range of non-surgical treatments such as Low Level Laser Therapy and Scalp MicroPigmentation (SMP).
4 – Preparation
Once you have decided on a treatment, we will guide you on how to prepare. Our expert Manchester-based patient care team will stay in touch with you at every step of the process to ensure you are always up to date.
5 – Treatment
All our treatments and surgeries are carried out at our Manchester Clinic based in Spinningfields, right in the heart of the city centre. On the day of the treatment, you can rest easy knowing you are in good hands with elite, award-winning and world-renowned surgeons, who will carry out your treatment personally.
6 – Aftercare
Following your treatment from our Manchester Clinic, we will provide you with all the relevant aftercare information you need, as well as perform regular reviews to check on the progress of your treatment. Don't feel like you are unable to contact us following your treatment, if you have any questions or concerns, you can always contact us for help and support.
Lead Hair Surgeon at our Manchester Hair Transplant Clinic
Dr Bessam Farjo is a world-renowned and leading celebrity hair transplant surgeon. He is the first UK surgeon to perform a live hair transplant surgery on the internet and is regularly featured on BBC, ITV, Channel 4 & Channel 5. Dr Farjo is also a regular blog writer for Huffington Post and contributor to several radio stations, as well as the 1st European President of the International Society of Hair Restoration Surgery (ISHRS). He is the Lead Hair Restoration Surgeon at the Manchester Clinic, and due to his wide range of experience and standing within the field, this allows him to perfectly place himself in the patient's' shoes and provide an excellent tailored service.
Frequently Asked Questions About Hair Transplants In Manchester
Is Hair Transplant Surgery permanent? Does it really work?
Transplanted hair behaves in a similar way to the hair from where it was taken. The hair in the donor area is genetically different to the balding hair, and therefore will not fall out in a similar pattern to previous balding. If the procedure is done correctly, it will last a lifetime for most people or at least well into old age. We simply re-distribute existing donor hair to your thinning areas. Sometimes as you get older, one may experience hair thinning throughout the donor area (the back and sides). If this happens, then the transplanted hair will follow the same pattern.
How long does Hair Transplant Surgery take?
A single Hair Transplant Surgery usually takes from four to eight hours as determined by our team to achieve your hair restoration goals. You are seated during the process, and the surgeon and staff are there with you to maximise your comfort throughout the procedure.
Is the procedure painful?
Hair transplants are performed under local anaesthetic and donor and recipient sites are totally frozen and de-sensitised. You will experience a discomfort when the anaesthetic is initially applied. During the hair transplant procedure, you may choose to watch TV or a film, listen to the radio or music, or you may want to take a nap. We'll make sure you're as comfortable as possible. Patients may experience some discomfort for a few days after the operation, but that is easily controlled with supplied medication.
How long will it take before I achieve what I'm looking for?
Our hair transplants will generally restore 25-30% of the original density in the treated area of the scalp after one operation. To achieve reasonable density, most people will require one to two procedures per bald area. The state of the rest of your hair will also be considered in determining how much density is suitable. The aim is to achieve a natural balance and style.
Have you performed surgery on any celebrities?
Many celebrities seek Farjo to solve their issues but most of them would like to keep this discreet. Actually, anytime you watch television you will probably see a Farjo patient! They range from Hollywood actors, producers and directors, comedians, iconic pop and classical singers, world renowned athletes, TV personalities, world famous entrepreneurs and even Royalty. A minority of them have been kind enough to share their hair stories publicly. Our first one to do so way back in 2004 was former Eastenders star, Shaun Williamson. Others over time include 80's pop legend Martin Fry of ABC, Actor/Comedian Sanjeev Bhaskar OBE, former England Captain David Platt, Cold Feet star John Thomson, and former Dragon's Den Duncan Bannatyne.
Is your Manchester Clinic Discreet?
Yes. Our Manchester clinic is discreet, including signage.
More FAQs Available Here
TV & Radio football pundit Micky Gray talks openly about...
Film & TV actor Chris Bisson gives his honest views...
Actor & Comedian, Sanjeev Bhaskar OBE, discusses with Dr Bessam...
Where is Our Manchester Clinic based?
The Farjo Hair Institute Manchester clinic is located in the heart of Manchester, in the urban area of  Spinningfields. Easily accessible by public transport with several train stations nearby. It is well connected to all the major motorways for those who are traveling into the city by car, with ample car parks in the area, but we also have a limited number of private car parking spaces available for our visitors by prior arrangement.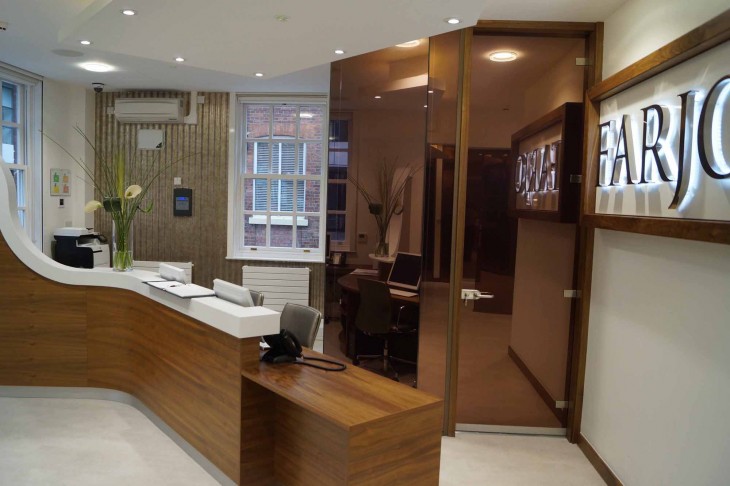 You can also visit our London, Harley Street Clinic
Manchester

0333 370 4004
70 Quay Street, Spinningfields, Manchester,
M3 3EJ
Speak to our team about hair transplants in Manchester
If you've decided it's time to do something about your hair loss, then contact us now for a free consultation, and get your confidence back.
Book a consultation