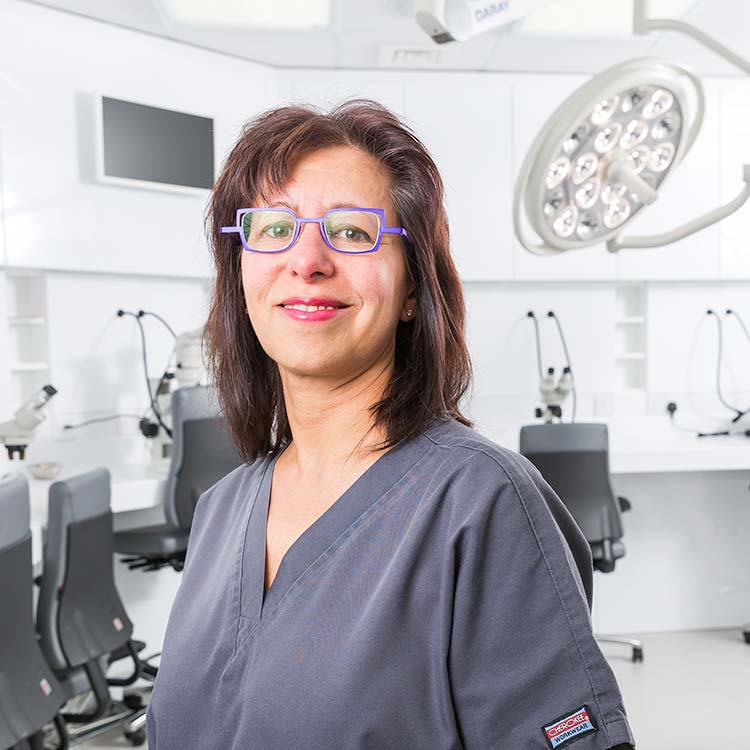 Meet the team: Dr Nilofer Farjo
20th November 2018
Our hair restoration surgeon and founding director, Dr Nilofer Farjo, tells us more about her role at Farjo…
1. What's your background and how did you come to work at the Farjo Hair Institute?
I graduated from the Royal College of Surgeons in Ireland in 1998 – my background is in general medicine, but I became a hair transplant doctor after meeting another doctor in Canada who was performing hair transplant surgery. After spending two months training with him I decided to start working in hair restoration full time. That was 25 years ago.
2. What makes you passionate about hair restoration surgery?
The hair follicle is a fascinating structure that is important to people in so many ways. Hair is more than just a protective covering of the scalp; it's a way for people to express themselves. It's also very important for someone's sense of wellbeing, so when a patient returns after having a hair transplant and you can see the change that it has made to their life, it's amazing to see.
3. What do you find most satisfying about your job?
Definitely the change in our patients' confidence and self-esteem once they have undergone a hair transplant and are starting to see results. Plus, the diversity of the patients who come to our clinic. I also enjoy the ability to work within such a supportive, talented team.
 4. What has been the proudest moment of your career so far?
My proudest moment was winning the Platinum Follicle Award for Advancements in Hair Biology Research, an award that is given for outstanding achievements in the field. It was the first time that the prize was ever awarded to a surgeon from the UK!
 5. How do you predict hair restoration will change over the next decade?
I think that we will find ways to preserve more hairs – for example, finding out how to reverse the effects of hair miniaturisation that leads to baldness. This may be by using growth factors, cell therapy or perhaps even genetic therapy.
6. If you weren't in hair restoration surgery, what would you be doing?
Art. I have always been passionate about art and when I have spare time I tend to do something creative using multimedia.
 7. Who would your dream patient be?
I think that when asked this question most people would answer with the name of someone famous, like Prince William. But actually, the dream patient is someone who is so affected by their hair loss that they are unable to cope with normal day-to-day life. Early on in my career, I had the privilege of treating a patient with severe facial scars from burns that he suffered as a child. He had skin grafts on his face and couldn't grow a beard to hide the scars. He grew up cruelly being called 'scar face', and his girlfriend at the time wouldn't go out in public with him. After a full beard reconstruction, he became a changed person – full of confidence, with a new job and new wife.
8. What's your claim to fame?
I guess in the world of hair restoration I am known as much for my hair research as I am for hair surgery – I probably have more research publications than any other hair restoration surgeon.