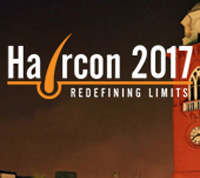 Drs Farjo Invited Guests at Annual India Hair Transplant Congress
3rd April 2017
In February, Drs Bessam & Nilofer Farjo were invited international guest speakers at the 8th  Annual Scientific Conference & Workshop of Association of Hair Restoration Surgeons, India, in Ludhiana, Punjab.
The first day started with a live surgery workshop followed by two more days of lectures, panel debates, expert tables, discussions and networking opportunities for all.
At the live workshop, all surgical techniques were demonstrated. Dr Bessam demonstrated harvesting donor hair whist Dr Nilofer showed how to prepare the grafts. There was also a concomitant beginners lecture course.
The main congress over two and half days consisted of various lectures and debate panels including surgical harvesting techniques, transplanting advanced baldness, new technical innovations, patient selection, tips from the experts, female hair restoration, complications, recipient scalp planning and design, body hair transplants, poor growth, unusual sites for transplants, platelet-rich plasma, low level laser, finasteride controversy, etc.
Dr Bessam Farjo lectured on strip harvesting technique, graft placing in pre-made slits, complications, eyebrow transplants and low level laser therapy. Dr Nilofer Farjo talked about graft dissection and preparation, advances in hair biology, female transplants, and failed transplanted hair growth.
This year's event was the biggest in its history involving more than 300 delegates, and was hosted by husband and wife team Dr Aman Dua and Dr Kapil Dua (current President of the Indian Association). The faculty were also treated afterwards to a fantastic day trip to the Sikh holy city of Amritsar and a visit to the Sikh Golden Temple as well as a trek to the Indian-Pakistani border to witness the twice daily ceremonial changing of the border guards.