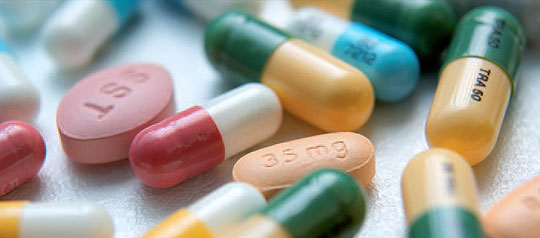 Hair Loss Medications – What You Should Be Taking And When You Should Be Taking It
8th October 2014
Hair transplant surgery is not right for everyone! It might sound strange coming from a hair transplant surgeon, but it's the truth – I very often discourage patients from hair transplant surgery where I don't believe it's appropriate at the time, or will not provide the desired results.
There are lots of reasons that the procedure might not be the correct course of action for some: It may be that the full extent of hair loss or potential hair loss is not yet apparent (this is the case with many younger patients); or it could be that there is not enough donor hair to provide a realistic looking result. Some people may simply not be comfortable with the idea of a surgical procedure, or it might be that the patient has unrealistic expectations and I will not operate on someone who I am sure will be disappointed with the result.
In some (though not all) of these cases and several others, medications may be an alternative solution. Whilst hair transplant surgery is the only way to permanently restore a receded hair line or lost hair from other areas, certain drugs can slow down and even halt hair loss.
Patients should beware though, there's an awful lot of nonsense out there, with several 'miracle cures' that should be avoided!
Minoxidil (trading at Regaine or Rogaine) and Finasteride (trading as Propecia or Proscar) are the only clinically proven medications shown to reduce hair loss over the long term.
Minoxidil was originally developed to treat high blood pressure and, as a side effect, was found to cause hair growth. In a very small percentage of men and women, it is proven to cause terminal hair to re-grow. In a higher percentage, the rate of hair loss is shown to slow down – the latest research shows that there is an 80% possibility of slowing down or even stopping hair loss in men and women.
It's available in both lotion and foam form and is easily applied to the scalp, with the 5% formulation recommended for men, and the 2% formulation best suited to women.
Finasteride – available in tablet form – blocks the conversion of testosterone to dihydrotestosterone (DHT), which is responsible for triggering hair loss. Research shows that, by taking finasteride, there is an 80% to 90% possibility of slowing down or even stopping the process of hair loss in cases of male pattern hair loss. Additionally, around 30% of men will experience cosmetically significant thickening of hair on the crown.
These are the only medications I currently recommend as they are the only ones licenced and clinically proven to yield results. At consultation, I normally go through all the benefits and any potential side effects with my patients.
For more information about hair loss medications, or to arrange a consultation to discuss the right choice for you, call us on 08453 132 131 or click here to send us an email.