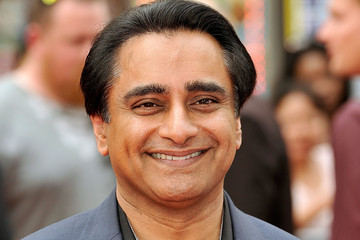 Watch Sanjeev Bhaskar OBE in 6 Videos with Dr Farjo
19th November 2015
Sanjeev Bhaskar OBE is a British comedian, actor and broadcaster best known for his work in the BBC Two comedy series Goodness Gracious Me and as host of The Kumars at No. 42. He currently appears on our screens in the 6-part ITV drama, Unforgotten, as DCI 'Sunny' Khan. It is on every Thursday at 9pm on ITV. HThe 6the is also currently appearing in the world premiere of Anthony Horowitz's comedy, Dinner with Saddam, at the Meniere Chocolate Factory theatre in London.
Sanjeev has been a hair transplant patient at Farjo for the last few years, but this year decided to publicly talk about it. In a series of 7 short videos he informally chats with Dr Bessam Farjo on a variety of subjects relating to hair loss and hair transplant surgery.
The 6th video interaction between Sanjeev and Dr Farjo deals with Low Level Laser Therapy for hair loss,  a popular treatment especially amongst women and younger men
In the 5th Video installment, Sanjeev and Dr Farjo have a bit of fun around the ARTAS FUE Hair Transplant Robot
In the 4th and latest video, Sanjeev and Dr Farjo go through the process of what happens after hair transplant surgery
In this 3rd video, Sanjeev discusses how hair transplant surgery works, and the origins of the technique
In the second of these videos, Transforming Confidence, Sanjeev discusses with Dr Bessam Farjo what impact hair loss has on his patients and how that compares with how Sanjeev himself felt.
In the first of these videos though, he talks to the camera about his own hair loss journey, and what drove him to have hair transplant surgery.