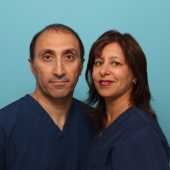 Back from South Korea Hair Transplant Congress
17th May 2012
Both Drs Bessam and Nilofer Farjo were invited faculty at the 2nd Annual Scientific Meeting of the Asian Association of Hair Restoration Surgeons. The conference was held at the Coex Conference Center in Seoul, South Korea on May 11-13, 2012, and was co-chaired by Drs Sungjoo 'Tommy' Hwang and Dr Jung-Chul Kim.
Dr Bessam Farjo was also examiner for the American Board of Hair Restoration Surgery who held an examination event the day before the conference for doctors in the Asia and the Far East. At the same time, Dr Nilofer Farjo presented four lectures at the Advanced Review program ahead of the main congress. She lectured on the consultation process, hairline design, pre- and post-op instructions as well as medical therapies.
On day one of the conference proper, Dr Nilofer lectured more extensively on the medical treatments for hair loss including low level light priniple. Dr Bessam Farjo discussed his philosophy on hair transplant surgery in the crown or vertex. He also chaired and moderated a panel of experts which debated the merits of Follicular Unit Extraction (FUE) vs. strip harvesting (FUT).
Finally, he was a featured expert on the subject of hairline design at a breakfast session on day 2 fielding questions from beginner and intermediate level delegates.
Seoul is a mega city of over 20 million inhabitants with a fascinating and rich history. The people of South Korea were very friendly and eager to talk to you especially if you are from the red half of Manchester!
More photos on our Facebook page.