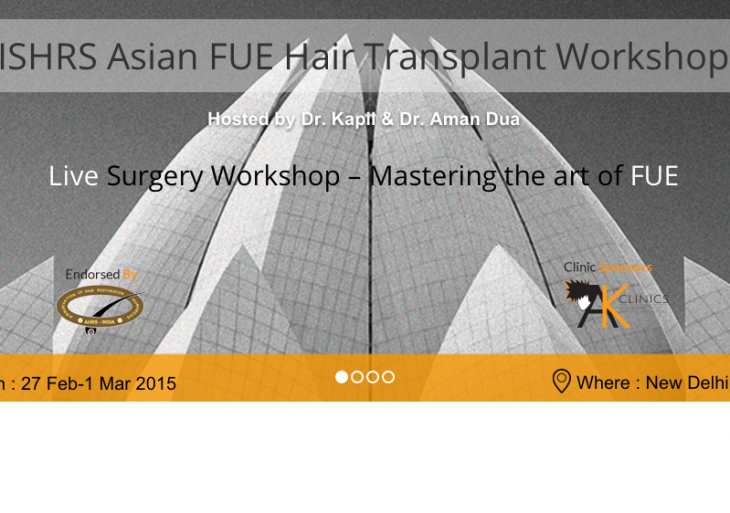 Dr Farjo Guest Faculty at ISHRS FUE Workshop
23rd March 2015
Dr Bessam Farjo travelled to Delhi, India last month as one of a handful of invited guest faculty at the ISHRS Asian FUE Hair Transplant Workshop, hosted by Drs Kapil & Aman Dua.
The event ran from February 27 to March 1, 2015, and was dedicated mainly to the art and science of FUE hair transplant surgery in all its forms. The format was lectures and debates in the mornings, and live surgery demonstrations in the afternoons.
Dr Farjo demonstrated manual FUE extraction at the live surgery whilst giving 4 lectures in the mornings. The topics he was asked to address were ARTAS Robotic FUE Hair Transplant, Post Operative Care of the FUE Patient and When to Recommend Strip FUT over FUE harvesting methods.
Dr Farjo was also fulfilling his role as ISHRS (International Society of Hair Restoration Surgery) Lead Ambassador, and for this he delivered the Opening Welcome Address on the ISHRS behalf, as well the workshop's closing remarks and appreciation awards to program chairs and gracious hosts, Drs Dua.
In our practice, FUE now stakes a major part of the hair transplant surgery schedule as the tools and skills available, enable us to offer what is in the hair loss patient's best interest.
Closing Speech Honouring Dr Kapil Dua Honouring Dr Aman Dua