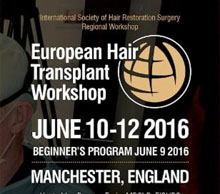 Live Surgery Workshop in Manchester
26th April 2016
Dear Friends & Colleagues,
On behalf of myself and my co-host, Dr Jean Devroye, I would like to personally invite you to join me and my esteemed faculty for our European Hair Transplant Workshop sponsored by the ISHRS.
The plan is to focus on FUE (follicular unit extraction) and its various aspects for about 80% of the workshop, and 20% towards strip FUT and adjuvant therapies. This, I feel, reflects the current needs of the field and especially the demand for training and continuous education in FUE techniques. The faculty has been chosen not only for their skill & experience in all surgical techniques but also for their balanced and unbiased approach to hair restoration. Demonstrations will take place during live surgery of a number of different manual and motorised devices as well as the robotic system.
A Beginners Course will take place 1 day prior to the live surgery workshop. This will encompass all the basics needed for someone considering entering the field and will involve both didactic lectures and hands on training on model simulations with work stations for hairline design, FUE extraction, strip harvesting, recipient sites, cutting and graft placing.
This exceptional workshop will take place in Manchester, one of Britain's coolest cities – a truly contemporary metropolis. While elements of its industrial past can be found throughout the city, it also boasts landmark cultural centres, major shopping attractions, an innovative music & nightlife scene and world class sport – home to the world famous Manchester United. Be sure to schedule time to take in the city's dramatic mix of old Victorian and new urban that gives Manchester its unique character.
Register today to secure a seat in this live surgery workshop!
I look forward to welcoming you.
Bessam Farjo, MBChB, FISHRS, Workshop Host
ISHRS Headquarters | 303 West State Street, Geneva, IL 60134 USA | Tel: 1-630-262-5399 | Fax: 1-630-262-1520 | info@ishrs.org | www.ISHRS.org