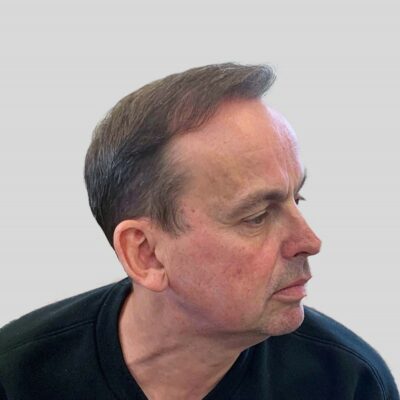 Paul Coyte
Procedure Overview

FUE
Type 5 Hair Loss
1932
OR alternatively call
0333 370 4004
Radio presenter and host, Paul Coyte, has recently revealed he underwent a hair transplant after feeling unhappy about his hairline for some time. Best known for being TalkSport2's current Breakfast Show Host, and for his work at Capital Gold, Virgin Radio, GB News and as Tottenham Hotspur's current match day compere, the radio presenter had his one hair transplant FUE procedure in September 2020, and is thrilled with his results.
"I feel so much better in my general life. My hairline is something that had been playing on my mind for quite some time".
Paul noticed an improvement about six months post-operation, but feels the true results have come through iat the 12 month mark and is over the moon with the success of the transplant.
"I've started to feel a lot more comfortable and confident after about 6 months, but after 9 months I've really noticed a difference".
He's not the only one to have noticed a change. "Now I'm getting to the point where people are actually stopping me and going 'you're looking really well Paul. What's different? Have you lost weight?' and they can't quite work out what it is. People recognise I'm looking younger and more confident and are asking what's different".
Not one to be coy about his operation, Paul is happy to let people know he's undergone a hair transplant.
"I'm very happy to tell people what I've had done. The positive comments that I've been getting really validates everything that I was feeling. Also, the fact that people are noticing proves to me that it's had the effect I wanted it to have, so I'm really happy."
"Paul came in to see us as he has been feeling quite self-conscious about his hair loss for quite some time" explains Dr Farjo.
"He felt that his frontal loss significantly dented his confidence and constantly saw a different person in the mirror compared to the person he knows he is. He opted for the Follicular Unit Excision (FUE) hair transplant procedure and had about 1900 grafts (over 4000 hairs) in September 2020".
Follow Paul On:
Procedure gallery