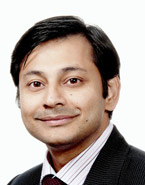 Farjo Expands Team With New Surgical Appointment
16th March 2012
Following the surge in procedures amongst male celebrities it's now regarded as more openly acceptable to do something about hair loss. At Farjo we continue to see an increase in enquiries and demand for hair transplants, helped by the likes of Wayne Rooney and Louis Walsh, and the procedure has never been so popular!
As such, I'm pleased to announce that we have expanded our Manchester team. We recently appointed our newest hair restoration surgeon, Dr Vishal Madan, who joined us in January 2012.
A member of the British Association of Dermatologists, British Society for Dermatological Surgery and Royal College of Physicians of UK, Dr Madan undertook a fellowship training in hair restoration surgery with Farjo in August 2010.
We're confident that Dr Madan's special interest in procedural dermatology and enthusiasm for finding solutions to hair loss will enhance the team here at the Farjo Medical Centre. We're delighted he has joined us in 2012 and look forward to welcoming him aboard!