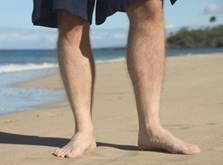 A Leg-up In Hair Transplant Surgery?
23rd March 2012
I recently came across a report regarding a 'new' hair transplant procedure using leg hair. I find the report somewhat misleading as using leg hair in hair transplant surgery is by no means a new occurrence – leg hair has been used before on the head, as has hair from the arms, chest and other areas of the body.
This is controversial and I don't think I'm alone in disagreeing with the impression the report gives and its case for using hair from the leg as donor hair. The growth yield from body hair is highly variably and unpredictable. While it may be argued that leg hair has the potential to create softer, more natural looking hairlines, it's no wonder that leg hair is not the first choice when it comes to hair transplant surgery.
Sometimes, hair density or coverage from the leg or other body sources can be disappointing because body hair transferred to the scalp may grow finer than at the source or it can even grow curly. It can also vary in appearance from one season to the next as half of the time, body hair is in the resting phase of its life cycle. This element of unpredictability makes the transplanting of leg hair a relatively uncertain option for hair transplant surgery.
Hair means a lot to our patients, both physically and emotionally. When a body or leg hair transplant fails as it often does, it can be devastating. I urge tremendous caution for any surgeon or patient contemplating this.