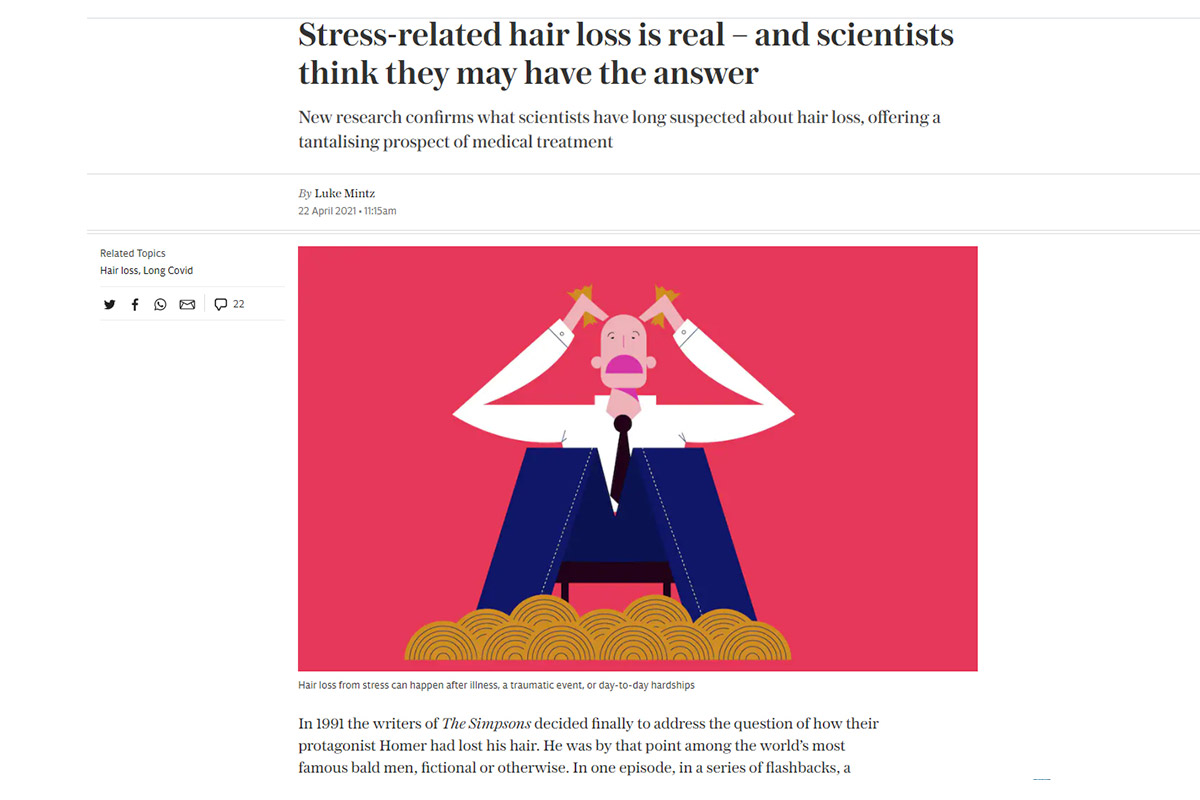 The Telegraph feature article
Stress-related hair loss is real – and scientists think they may have the answer
hair loss and its treatment researchers spend billions each year – an "order of magnitude" more than the amount spent on researching malaria and HIV/AIDS, according to Bill Gates, who famously condemned the "tilted marketplace incentives" in 2013.
But despite all the research, the answers still aren't clear. "It's a massive jigsaw puzzle," says Dr Greg Williams, president of the British Association of Hair Restoration Surgery. "Each of these studies gives us one piece of the puzzle, and slowly we start to build the overall picture."
For those affected by telogen effluvium, hair normally falls out suddenly. It also falls out with alarming rapidity, sometimes at a rate of 300 to 500 hairs per day. Patients describe the horror of waking up to see clumps of hair on their pillow; or in their hands after washing their hair in the shower. It was this form of hair loss that was the focus of a pioneering animal study at Harvard. It was published in the journal Nature last month. Researchers surgically removed from lab mice the adrenal glands responsible for pumping out corticosterone, a stress-causing hormone that is thought to suppress the body's production of the protein GAS6, which stimulates hair growth. With their glands removed, the mice were essentially incapable of feeling stress.
Scientists then observed their hair growth. They found the hair follicles of the mice were in telogen (the resting phase) for just 20 days, three times less than in a control group of non-altered mice. The follicles also engaged in hair growth three times as often. When scientists then injected the mice with the GAS6 protein, it stimulated even more hair growth.
But Williams notes caution. "So many of these important studies are in mice or animals, and do not necessarily translate into human care," he says. "It does in some cases and very much doesn't in other cases."
Read the full article – 'Stress-related Hair Loss Is Real – And Scientists Think They May Have The Answer'