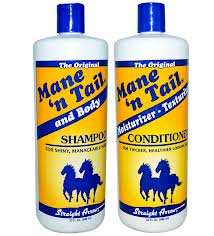 Will This Shampoo Give You The Mane Of A Show Pony?
12th November 2014
Reported to be a beauty secret of the stars, the newest 'must-try' hair product is fittingly called Mane 'n Tail – you guessed it, a horse shampoo. Never ones to miss a piece of the action, the shampoo and conditioner are said to be must-haves for a-list celebs such as Kim Kardashian, Demi Moore, Sarah Jessica Parker and Jennifer Aniston.
Personally, the thought of prancing around smelling like a pony doesn't really appeal to me, but, as the number one bestselling hair product on Amazon at the moment, it's certainly attracting some attention.
Setting the grooming standards for equestrian enthusiasts across the US when it first went on sale around 40 years ago, Mane 'n Tail was originally created to keep horses' manes shiny and glossy. Allegedly, the results were so good that owners started using the products on their own hair.
Marketed by its makers as the 'original horse to human crossover product', the shampoo is fortified with moisturisers and emollients that supposedly help to provide body, shine and manageability for healthy-looking hair after every use.  Meanwhile the conditioner's exclusive formula promises to give hair a lustrous,  healthy look that helps prevent hair breakage and split ends – leaving hair longer, stronger and fuller.
Given that horses' hair is dry, frizzy and up to three times thicker than human hair, Daily Mail journalist, Marianne Power, felt that there must be some truth in the product's ability. So, in a last ditch attempt to tame her wild mane, she gave the shampoo and conditioner a whirl. However, after leaving Marianne with dry and matted hair, the products definitely received a 'neigh' from her.
These products are likely to be doing more harm than good, so my advice would be to steer well clear. The key to maintaining a healthy head of hair is to keep your hair care routine very simple – here's my top tips:
Invest in good quality hair products, particularly shampoo and conditioner
Try and wash your hair on a daily basis – or at least every other day – to keep it in top condition
When using a hairdryer, make sure you use a low-heat setting and point the nozzle down, not across the hair shaft.
But, if you're still determined to try the products for yourself there's no need to head to a tack shop as stores such as Liberty have started stocking them.