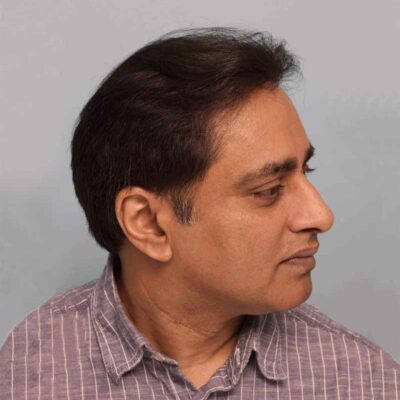 Sanjeev Bhaskar OBE, actor
Procedure Overview

STRIP FUT
FUE
Type 4 Hair Loss
OR alternatively call
0333 370 4004
Sanjeev Bhaskar OBE is a much loved British comedian, actor and broadcaster. He originally came to fame for his work in the BBC Two sketch comedy series Goodness Gracious Me and writer and star of the sitcom The Kumars at No. 42. Over the last few years, he has excelled in his role as DI Sunny Khan in Unforgotten a murder investigation ITV drama. Sanjeev is also currently the Chancellor of the University of Sussex. In 2006, Bhaskar was honoured with the Order of the British Empire.
Sanjeev has been consulting us about his hair loss since 2008. Throughout this period he has successfully maintained his trademark beautiful hair with a combination of hair-maintaining medications and three hair transplant procedures.
Actually, Sanjeev is fairly private about his hair loss concerns, and shares this subject's sensitivity with the majority of other men with male pattern baldness. His desire to help others though, made him graciously agree to share his experience publicly BUT he asked us to keep his original photographers private. The photographs on this page are 'afters' showing his recent appearance.
In 2018, Sanjeev produced a series of YouTube videos with Dr Farjo, highlighting different aspects of hair loss and hair transplant surgery. You can watch them all on this page via the video tab.
Procedure gallery