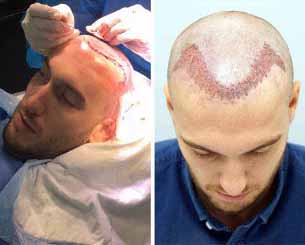 A New Head Of Hair For Daily Mirror Journalist
18th August 2017
"I Was In And Out In A Day And My Life Had Changed"
A national newspaper journalist took his readers behind the scenes of a hair transplant surgery when he underwent hair transplant surgery at our Manchester clinic this summer.
Mirror Online's Thomas Bristow gave a no-holds-barred account of his surgery, discussing everything from his pre-op nerves to the sensation of having the anaesthetic applied.
Despite being just 28, Tom was already concerned about his hair loss and taking Propecia, noting: "It has bothered me. Models, actors, cover star footballers – none of these men have receding hairlines. I know it's visual suicide to compare myself to David Beckham, but if his 'barnet' is what society has decided as the benchmark for perfect hair, where does my high hairline fit in?"
A chance encounter with the Institute gave way to a consultation with Dr. Bessam Farjo, who advised 1,300 grafts via FUE. Earlier this month, Tom arrived at the Manchester clinic ready to have his hair transplant.
Dr. Farjo said: "From our very first meeting, it was clear to see that Tom's hair loss had bothered him for a number of years and he had already explored medications and different hair styles in attempts to stem and camouflage his hair loss. He was actually an ideal candidate for surgery – his hair was thinning at the crown and he had receding temples, but he had good quality donor hair and, importantly, he was realistic about what could be achieved.
"I recommended ARTAS FUE for Tom because of his age and the thickness of his hair. The ARTAS robotic system allows us to extract hair by mapping the density of hair growth in any particular area, then drilling a small 'core' around each hair follicle, leaving minimal scarring."
Follicular extraction took around 2 hours before incision and implantation began. Dr. Farjo made a series of tiny holes to fill the pre-determined new hairline area, before the individual follicles were implanted. From start to finish, the process took around 5 hours
Tom said: "The Farjo Hair Institute was incredible; from start to finish their professionalism, security and safety were second to none."
Tom's results will start to be apparent in around eight months' time, when he will revisit his story via the Mirror Online.
Dr. Farjo commented: "This is the hard part – waiting to see what the end result will look like after the hair transplant! I fully expect Tom to see excellent results once his regrowth is complete and look forward to seeing him in the clinic again soon."
Read Tom's story and see before, during and after videos and photos of his surgery!